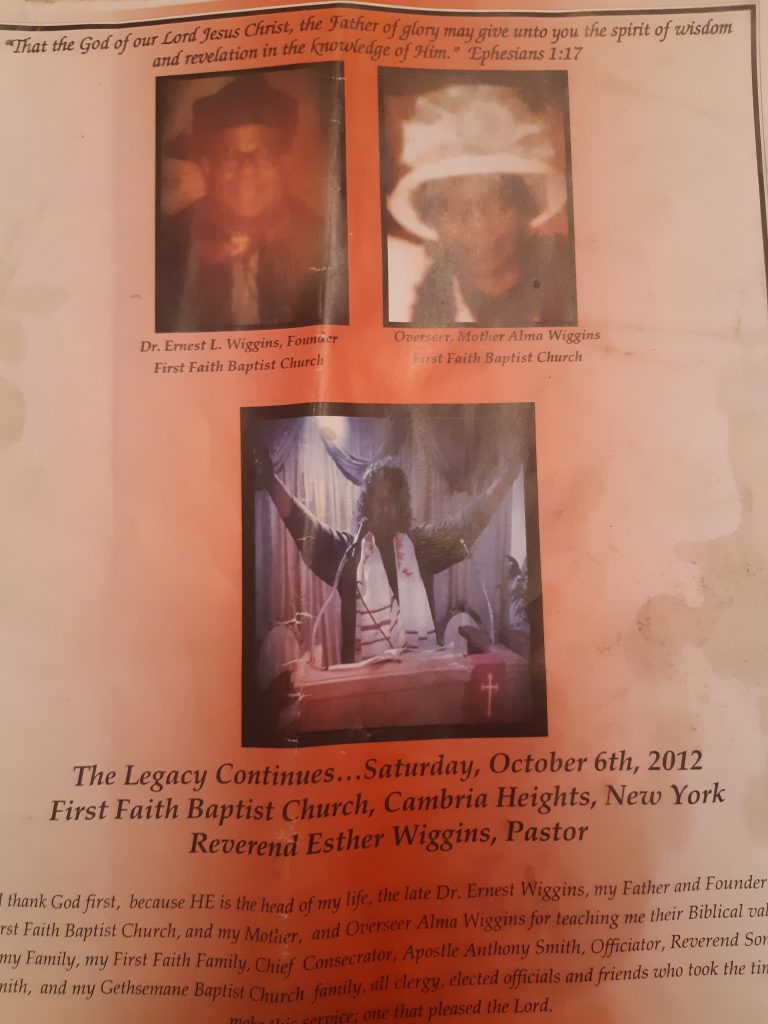 First Faith Baptist Church History
In February, 1952 First Faith Baptist Mission was organized in the home of Shephard, Brother Ernest L. Wiggins and Sister Alma Wiggins at 515 West 159 street, New York, N.Y. Dr. C. E. Down, Mission Overseer, Deacon Brother R. Niles, Chairman of the Deacon Board and 14 Baptized Believers among them were: Sisters Alma Wiggins, Viola Niles, Ms. Brown, J. Smith, Deidra, Alma Loveitt, S. Drew, Mother M. Wheeler, F. Jones, and E. Powell. The Brothers were Ernest L. Wiggins, R. Niles, Dr. C.E. Downs, and Alphair Coleman.  On October 4, 1956, First Faith Baptist Mission met with the Council of Ministers at Jones Chapel Baptist Church under the leadership of Reverend Jones.  The council's purpose for meeting at that time was to ordain Ernest L. Wiggins as Reverend.
First Faith Mission was set apart at 443 west 126 streets, New York, N.Y.  At that time they became First Faith Baptist Church. On April 17, 1957 a meeting was held at our new place of worship. The purpose of the meeting was to let it be known that the Church was incorporated pursuant to Article VII of the Religious Corporations Law of the State of New York. The Church became incorporated as a non-profit organization. A seal was given by the state of New York to the church.
During 1964, Rev. Wiggins and his family moved to St. Albans, Queens, New York.  Thus began the process of driving many of the parishioners to the church.  Many people desired to attend Sunday Worship Services but were unable to attend.  Rev. Wiggins began the task of looking for another location in Queens.  The family began to worship with many churches in the Jamaica area.  They worshipped with the following churches: St. Luke's Baptist Church, Pastor Roy L. Gilmore, Francis Lewis Blvd., St. Albans, New York; Cannon Baptist Church, Pastor Fredrick Bottoms, New York Blvd., Jamaica, New York, and Ephesus Baptist Church, Pastor Rev. Covington, Queens, New York.  There were many churches we worshipped with. The Lord then places us in Cambria Heights.  The lord blessed with a multitude of souls, who were blessed and saved through this ministry.  We are rejoicing in the lord as he continues to pray for us as we continue to pray for you. God Loves You.
In 1991, Our Pastor fell asleep. Although we were deeply saddened, we were reminded of the scripture wherein it is written that when one is absent from the body, one is present with the Lord from whom we draw our strength. In 1992 our Assistant Pastor Reverend Davis Roberts preside as our acting pastor until he relocated with his family to Virginia. May God continue to bless him and Mrs. Alma Roberts as they continue in their Ministry.
In January 1995 Reverend Hacket worked with the church. His wife worked by his side. Their ministry continued until July, 1996.  At that point in time, the Reverend Janie White, Reverend Hicks, and Reverend Holley worked with us.  Rev. Holley introduced us to his father-in-law, Reverend Albertus Johnson who worked with him and later was installed as the pastor of the church. He served for three years.  We were grateful for the time that he shared with us.
In 2000 the pulpit committee started searching for another pastor.  We all knew Reverend Eric Magwood who worships with us, from Community Baptist Church.  He interviewed for the position and trained the members of the church alongside with his wife. Rev. Magwood felt led to return back to Community Baptist Church with his wife and family.  He became the Pastor of Community Baptist Church in 2015.  Evangelist Esther Wiggins continue leading the FFBC ministry.  The church asked Evangelist Wiggins to serve as pastor and she was accepted by the pulpit committee and members of First Faith Baptist.
In 2012 Pastor Esther Wiggins was ordained and installed as pastor of First Faith Baptist Church. Under Pastor Esther Wiggin's leadership First Faith continue to grow and be blessed. Please continue to pray for us as we continue to grow in the body of Christ. We look forward to doing greater thing in Christ.